The United States of Death Squads: Now in Iraq
Death Mask: The Deliberate Disintegration of Iraq

[... an extended version of a column appearing in last December 2's edition of
The Moscow Times
.] [via
Empire Burlesque
]
The recent revelations about the
virulent spread of death squads
ravaging Iraq have only confirmed for many people the lethal incompetence of the Bush Regime, whose brutal bungling appears to have unleashed
the demon of sectarian strife
in the conquered land. The general reaction, even among some war supporters, has been bitter derision: "Jeez, these bozos couldn't boil an egg without causing collateral damage."
But what if the truth is even more sinister? What if
this murderous chaos
is not the fruit of rank incompetence but instead the desired product of carefully crafted, efficiently managed White House policy?
Investigative journalist Max Fuller marshals a convincing case for this dread conclusion
in a remarkable work of synthesis
drawn from information buried in reams of mainstream news stories and public Pentagon documents. Piling fact on damning fact, he shows that the vast majority of atrocities now attributed to "rogue" Shiite and Sunni militias are in fact the work of government-controlled commandos and "special forces," trained by Americans, "advised" by Americans and run largely by former CIA assets, Global Research reports.
We first
reported here in June 2003
that the U.S. was already hiring Saddam's security muscle for "special ops" against the nascent insurgency and re-opening his torture haven, Abu Ghraib. Meanwhile, powerful Shiite militias – including Talibanic religious extremists armed and trained by Iran – were loosed upon the land. As direct "Coalition" rule gave way to various "interim" and "elected" Iraqi governments, these violent gangs were formally incorporated into the Iraqi Interior Ministry, where the supposedly inimical Sunni and Shiite units often share officers and divvy up territories.
Bush helpfully supplied these savage gangs – who are killing dozens of people each week, Knight-Ridder reports – with American advisers who made their "counter-insurgency" bones forming right-wing death squads in Colombia and El Salvador. Indeed, Bush insiders have openly bragged of "riding with the bad boys" and
exercising the "Salvador option
," lauding the Reagan-backed counter-insurgency program that slaughtered tens of thousands of civilians, Newsweek reports. Bush has also provided a "state-of-the-art command, control and communications center" to coordinate the operation of his Iraqi "commandos," as the Pentagon's own news site, DefendAmerica, reports. The Iraqi people can go without electricity, fuel and medicine, but by God, Bush's "bad boys" will roll in clover as they carry out their murders and mutilations.
For months, stories from the Shiite south and Sunni center have reported the same phenomenon: people being summarily seized by large groups of armed men wearing police commando uniforms, packing high-priced Glocks, using sophisticated radios and driving Toyota Land Cruisers with police markings. The captives are taken off and never seen again – unless they turn up with a load of other corpses days or weeks later, bearing marks of the gruesome tortures they suffered before the ritual shot in the head. Needless to say, these mass murders under police aegis are rarely investigated by the police.
Earlier this year, one enterprising Knight-Ridder reporter, Yasser Salihee, actually found several eyewitnesses willing to testify to
the involvement of the U.S.-backed commandos
in 12 such murders. The offer was shrugged off by the Interior Ministry's spokesman – an American "adviser" and veteran bones-maker from the Colombian ops. In the end, it didn't matter; Salihee was shot dead by a U.S. sniper at a checkpoint a few days afterwards.
The Bushists may have been forced to ditch their idiotic fantasies of "cakewalking" into a compliant satrapy, but they have by no means abandoned their chief goals in the war: milking Iraq dry and planting a
permanent military "footprint"
on the nation's neck. If direct control through a plausible puppet is no longer possible, then
fomenting bloody chaos and sectarian strife
is the best way to weaken the state. The Bushists are happy to make common cause with thugs and zealots in order to prevent the establishment of a strong national government that might balk at the ongoing "privatizations" that have continued apace behind the smokescreen of violence, and the planned
opening of Iraq's oil reserves
to select foreign investors – a potential transfer of some $200 billion of Iraqi people's wealth into the hands of a few Bush cronies, the Independent reports.
The violence is already dividing the county into
more rigid sectarian enclaves
, the New York Times reports, as Shiites flee Sunni commandos and Sunnis flee Shiite militias in the grim tag-team of their joint endeavor. It's all grist for the Bushist mill: an atomized, terrorized, internally riven society is much easier to manipulate. And of course,
a steady stream of bloodshed
provides a justification for maintaining a substantial American military presence, even as politic plans for partial "withdrawal" are bandied about.
There's nothing new in this; Bush is simply following a well-thumbed playbook. For example, in 1953 the CIA bankrolled Islamic fundamentalists and secular goon squads to destabilize the democratic government of Iran – which selfishly wanted to control its own oil – and pave the way for the puppet Shah, as
the agency's own histories recount
. In 1971, CIA officials admitted carrying out
more than 21,000 "extra-judicial killings"
in its
"Phoenix" counter-insurgency operation
in Vietnam. (The true number of victims is certainly much higher.) In 1979, the CIA began sponsoring the most violent Islamic extremist groups in Afghanistan – supplying money, arms, even jihad primers for schoolchildren – to destabilize the secular, Soviet-allied government and provoke the Kremlin into a costly intervention,
as Robert Dreyfus details
in his new book, Devil's Game: How the United States Helped Unleash Fundamentalist Islam. Later, Saudi magnate Osama bin Laden – whose family firm helped kick-start George W. Bush's business career – joined the operation, and his men were sent to America for "anti-Soviet" terrorist training, as
Greg Palast reports
. And of course, these examples only scratch the scorched-earth surface of America's double-dealings in this deathly shadow world.
This bi-partisan policy has been remarkably consistent for more than half a century: to augment the wealth and power of the elite, American leaders have supported – or
created
– vicious
gangs of killers and cranks
to foment unrest, eliminate opponents and
terrorize whole nations
into submission. The resulting carnage in the target countries – and inevitable blowback against ordinary Americans – means nothing to these Great Gamesters; it's merely the price of doing business. Bush's "incompetence" is just a mask for stone-cold calculation.
********************************************************
And
via
Qlipoth
Somebody is trying to provoke a civil war in Iraq :
Robert Fisk
: The real question I ask myself is: who are these people who are trying to provoke the civil war? Now the Americans will say it's Al Qaeda, it's the Sunni insurgents. It is the death squads. Many of the death squads work for the Ministry of Interior. Who runs the Ministry of Interior in Baghdad? Who pays the Ministry of the Interior? Who pays the militia men who make up the death squads? We do, the occupation authorities ... We don't hear of anybody stopping a mosque getting blown up. We're not hearing of death squads all being arrested. Something is going very, very wrong in Baghdad ... What is going on in Iraq at the moment is extremely mysterious. I go to Iraq and I can't crack this story at the moment.
Some of my colleagues are still trying to, but can't do it. It's not as simple as it looks. I don't believe we've got all these raving lunatics wandering around blowing up mosques. There's much more to this than meets the eye. All of these death squads that move around are part of the security forces ... I go into the Interior Ministry in Baghdad and I see lots and lots of armed men wearing black leather. Who is paying these guys? Well, we are, of course. The money isn't falling out of the sky ... I mean, this is a barbarous world we're living in now in the Middle East. It's never been so dangerous here, either for journalists or soldiers but most of all for Arabs. Hence the thousands of people in the mortuary.
And
American Islarmism
December 08, 2005,
U.S. Helps Some Iran-Backed Terror -- Inter Press Service -- Dahr Jamail and Harb al-Mukhtar
BAGHDAD, Dec 8 (IPS) - After the U.S. forces and the bombings, Iraqis are coming to fear those bands of men in masks who seem to operate with the Iraqi police ... Omar Ahmed's family learnt what it can mean to run into the police, their supposed protectors ... "The Badr Army is conducting a campaign to destroy other political parties and their electoral advertisements," said Saleh Hassir, a doctor at a Baghdad medical centre. "We see black paint and tears on ex-prime minister Allawi's posters and those of the Sunni groups, but pictures of al-Hakim remain unaffected." The doctor says the Americans have helped bring in new Iran-backed terror. "So many of us are against Iraq being controlled by these fundamental Islamic Iranian loyalists like al-Hakim," the doctor told IPS. "Now we are seeing the suffering and ultimate dictatorship they have brought us here with the help of the Americans."The Seasoned Pro's Opinion: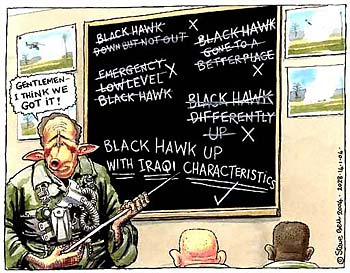 Warning of the outcome of a possible civil war in Iraq, Negroponte said sectarian civil war in Iraq would be a "serious setback" to the global war on terror. Note - he did not say it would be a "serious setback" to the Iraqi people, over 1,400 of whom have been slaughtered in sectarian violence touched off by the bombing of the Golden Mosque last week in Samarra. No, the violence and instability in Iraq would be a "serious setback" to the global "war on terror." But it's interesting for him to continue, "The consequences for the people of Iraq would be catastrophic," whilst feigning his concern. Because generating catastrophic consequences for civilian populations just happens to be his specialty. If we briefly review the political history of John Negroponte, we find a man who has had a career bent toward generating civilian death and widespread human rights abuses, and promoting sectarian and ethnic violence ...In the middle of Negroponte's tenure in Iraq, the Pentagon (read Donald Rumsfeld) openly considered using assassination and kidnapping teams there, led by the Special Forces.
Referred to not-so-subtly as "the Salvador option," the January 2005 rhetoric from the Pentagon publicized a proposal that would send Special Forces teams to "advise, support and possibly train" Iraqi "squads." Members of these squads would be hand-picked Kurdish Peshmerga militia and Shia Badr militiamen used to target Sunni resistance fighters and their sympathizers.What better man to make this happen than John Negroponte? His experience made him the perfect guy for the job. What a nice coincidence that he just happened to be in Baghdad when the Pentagon/Rumsfeld were discussing "the Salvador option."Fast forward to present day Iraq, which is a situation described by the Washington Post in this way: "Hundreds of unclaimed dead lay at the morgue at midday Monday - blood-caked men who had been shot, knifed, garroted or apparently suffocated by the plastic bags still over their heads. Many of the bodies were sprawled with their hands still bound."
The Independent newspaper from London recently reports that hundreds of Iraqis each month are tortured to death or executed by death squads working out of the Shia-run Ministry of Interior.
------------------------------------------------------------------------------------
... As the Black-ops spread to Iran:
Bomb blast hits Iranian oil city
- The attack is the latest in a series to hit the restive Khuzestan Province, at the heart of Iran's oil industry.